Wives of accused Kandhamal Christians seek justice in Delhi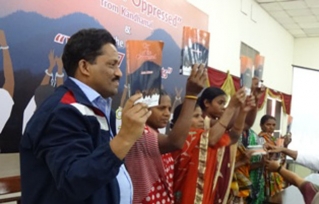 New Delhi: Wives of Christian Kandhamal convicts who were accused of killing a Hindu religious leader, Swami Laxmananda Saraswati, eight years ago, were in Delhi seeking justice for their husbands who are languishing in jail.
"Our men are innocent. They could never have committed such professional murders," said Nilandri Nayak, wife of one of the seven men who has been serving a life term.
On March 3 the wives of the convicts, released a book "Cry of the Oppressed" on the case written by journalist Anto Akkara at a function in New Delhi's Constitutional Club.
Veteran journalist Kuldeep Nayar, Hindu social reformer Swami Agnivesh and political leaders such as Oscar Fernandes and Annie Raja attended the function where the women narrated their sufferings.
The incident, that happened on August 23, 2008, had cataclysmic repurcussions with Hindutva elements in Odisha using the controversial Swami's killing as a propulsion to wage a war of genocide against the tribal Christians in Odisha. In 2013, a Fast Track Court awarded their husbands life term and their appeal in the Odisha High Court has been pending since October 2014.
The book, makes an attempts to prove that the men were falsely implicated as part of a sinister game plan hatched by Hindu radical groups. It deliberates into the ignored facts and brings to light the dirty game of religious politics in Odisha's tribal belt.
It has to be noted that all the accused are Christians with no training in firearms.
Addressing the function, Akkara said the men were convicted "despite hardly any convincing evidences being produced against them in the Fast Tract Court."
Courtesy : http://www.christiantoday.co.in/
By
News By ......
Posted on July 13, 2015 at 10:00 PM
Amir Ayad lies in a hospital bed after he was allegedly beaten by Islamic hardliners who stormed a mosque in suburban Cairo
Pakistan: Islamist Mob Kills Christian Couple Accused of Blasphemy
By
News By ......
Posted on July 13, 2015 at 10:00 PM
Commanded from mosque loudspeakers, a Muslim throng in Punjab Province killed a Christian couple yesterday after a co-worker accused the pregnant wife of defiling the Koran, sources said.