Muslims And Christians In Pakistan Are Working Together To Defeat False Blasphemy Accusations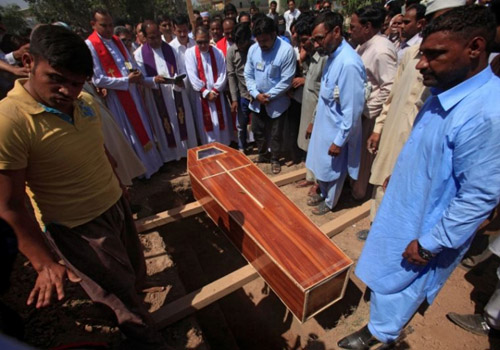 Two blasphemy cases against Pakistani Christians accused of desecrating Islamic scriptures have been dropped in the past week, according to the persecution watchdog World Watch Monitor.
The new developments, which involved religious leaders and influential people coming together to help the falsely-accused Christians, raise hopes once again of an improving climate in the Muslim-majority country.
In the first incident in Sheikhupura, a burned and torn copy of the Quran was found in an abandoned house next door to the home of the Christian family of Parvaiz Masih, 50, and his wife Azra Bibi.
Masih told World Watch Monitor his wife had returned home after working as a cleaner and saw smoke coming from the neighbouring house.
According to the police report, pages of the Quran were found the courtyard. The report said the house, vacant for several months, was owned by a man called Anwar Khan Lodhi. The "desecrated" Quran was found in a wash room.
Sponsored Watch Your Favorite Christian Films, 24/7. Click Here To Start Your Free Trial Today
A mob gathered and even though one of the Lodhi family witnessed that the Christians would never have desecrated the Quran, a case was registered against Masih, who works as a cleaner in a bank.
At a meeting called a few days later, prominent Muslims in the town assured police and other concerned people that they had "complete trust" in the Christian family and one local lawyer, Abu Obaid, even offered to stand accused himself of the crime if it was ever proved that the Christian family was involved.
Masih said there had been a long-standing issue over ownership of the house and the property's deeds.
In the second incident, in Quetta, a young boy and his mother were also suspected of blasphemy after false claims they had desecrated the Quran. They too were investigated then released after the intervention of prominent and influential Muslims in the area.
By
News By ......
Posted on July 13, 2015 at 10:00 PM
Amir Ayad lies in a hospital bed after he was allegedly beaten by Islamic hardliners who stormed a mosque in suburban Cairo
Pakistan: Islamist Mob Kills Christian Couple Accused of Blasphemy
By
News By ......
Posted on July 13, 2015 at 10:00 PM
Commanded from mosque loudspeakers, a Muslim throng in Punjab Province killed a Christian couple yesterday after a co-worker accused the pregnant wife of defiling the Koran, sources said.