GOOD FRIDAY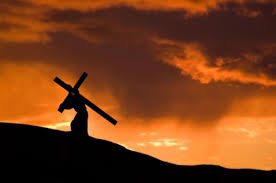 GOOD FRIDAY.
THIS IS THE DAY VERY VERY IMPORTANT IN CHRISTIAN THEOLOGICAL HISTORY IN MANY WAYS. WE CAN SIMPLY CALL IT A DAY, WHEN THE DAY OF CRUCIFICATION OF JESUS CHRIST FOR DELIVERANCE OF MANKIND FROM THE SINFUL CONDITION, SUFFERING AND AFFLICTION OF DEVIL. THIS IS A DAY OF ATONEMENT FOR MAN TO BE SET FREE FROM HIS EVER LASTING SLAVERY AND TO BE RECONCILED AND SET FREE.
SIX HUNDRED YEARS BEFORE HIS BIRTH ONE OF THE PROPHETS ISAIAS FORE TOLD THIS MISSION TO BE FULFILLED. HE SAID-
"THE SPIRIT OF THE LORD IS UPON ME, BECAUSE HE HAS ANOINTED ME TO PREACH THE GOSPEL TO THE POOR, HE HAS SENT ME TO HEAL THE BROKEN HEARTED, TO PREACH DELIVERANCE TO THE CAPTIVES, AND RECOVERING SIGHT TO THE THE BLIND, TO SET AT LIBERTY THEM THAT ARE BRUISED"
IN HIS OWN TIMES JESUS, DECLARED THAT THIS STATEMENT IS FULFILLED IN ME.
THIS IS THE DELIVERANCE OF ALL TYPES OF POLITICAL, SOCIAL AND ECONOMIC TRAMMELS. DELIVERANCE FROM CAPTIVITY IS FROM THE CROSS. HIS HOLY BLOOD FLOWS TO WASH AWAY THE SINS OF THE WHOLE WORLD.
ALL MY BELOVED CHILDREN OF THE MOST HIGH GOD IF YOU ARE STILL UNDER BONDAGE OF SIN, RITUALS, TRADITIONS, YOU ARE MAKING THE GOSPEL TRUTH NON EFFECT. I HEARD SOME OF THE CHURCHES ARE WASHING THE FEET OF OTHERS TO SHOW HUMILITY OF CHRIST. DO YOU WANT TO BUY HUMILITY OF CHRIST BY YOUR WORKS AND DEEDS? DO NOT EXCHANGE THEOLOGICAL DOCTRINES WITH CERTAIN INCIDENTAL HAPPENINGS. DO NOT EXCHANGE FREE FLOW OF BLOOD OF JESUS WITH WASHING OF FEET FOR ATONEMENT AND EXPIATION OF GOD.
DO YOU KNOW IN INDIA SOME OF THE SAINTS GET THEIR FEET WASHED BY THE BLIND FOLLOWERS AND DRINK THAT FILTH? IT IS CALLED " CHURN AMTRAN" DO YOU KNOW THAT COW URINE IS SOLD TO DRINK IN SMALL CAPSULES FOR REMISSION OF SIN?
IF YOU DO SUCH THINKS, YOU ARE STILL IN BONDAGE AND HAVE NO PORTION IN THE BLOOD AND BODY OF CHRIST.
ON THE CROSS, YOU GET HONOR, PRESTIGE, RESTORATION SITING ON THE RIGHT HAND OF FATHER CALLING HIM ABBA FATHER. YOU ARE NO MORE SMALL LITTLE INSECT ANY MORE.
IF YOU DO SUCH WHIMSICAL SINFUL RITUAL, YOU HAVE NO HERITAGE IN THE COMMON WEALTH OF JESUS CHRIST.
I AM NOT ANGRY, I AM AGGRIEVED OF YOU, THAT THE GOSPEL TRUTH THAT I PREACHED ALL MY LIFE LONG, FELL UPON DEAD EARS AND STONY PLACES AND BUSHES. MAY THE LORD THAT SHED HIS BLOOD ON THE CROSS SHOW YOU MERCY AND OPEN YOUR EYES. AMEN.
By
News By ......
Posted on July 13, 2015 at 10:00 PM
Amir Ayad lies in a hospital bed after he was allegedly beaten by Islamic hardliners who stormed a mosque in suburban Cairo
Pakistan: Islamist Mob Kills Christian Couple Accused of Blasphemy
By
News By ......
Posted on July 13, 2015 at 10:00 PM
Commanded from mosque loudspeakers, a Muslim throng in Punjab Province killed a Christian couple yesterday after a co-worker accused the pregnant wife of defiling the Koran, sources said.