Prayers said across India for Elderly Nun who was gang raped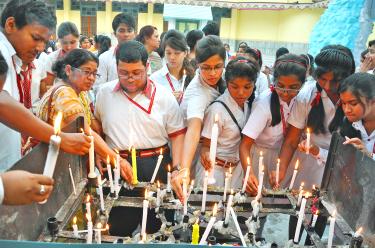 Attacks comes at a time when sexual violence is the subject of Debate and anger after the Nationwide ban of controversial documentary India s' Daughter.
Sunday 15, March 2015.
Payers were said at Churches all across India on Sunday for an elderly Nun who was raped at a convent school in an attack that has scared Christians and intensified the nationwide anger over sexual violence.
The 71 years old was raped when she tried to stop a robbery early on Saturday at the convent of Jesus and Mary in Ranaghat Town, 74 km. north of Kolkata. Six armed men raided the convent, vandalized the chapel and stole the equivalent of $ 7,500 pounds from the school.
The Nun was left bleeding in the convent and was being treated in a hospital on Sunday. The convent s' CCTV system caught the raiders on camera and the police have detained several men.
The attack took place as India continues to debate the controversial documentary India s' daughter, broadcast by the BBC in Britain and other countries, but banned from receiving an official airing in India by the authorities.
Police in Delhi has arrested a 21, year old activist on Saturday, who has been attempting to get around the ban on the film, which explores the fatal gang rape of a student in South Delhi in 2012. He was later released on bail.
Ketan Dixit screen director, of Leslie Edwin s' Film in a slum in south Delhi where Mukesh Singh and three other men lived are the main characters in this film. These three men are on a death row for this brutal attack.
With borrowed projection equipment, dixit showed the documentary to around 40 people in the Ravi Dass Camp slum. " So, I felt that the people of the Camp should see the India s' Daughter and make up their own mind about the film." He told the Gaurdian. " They may be poor, but they have right to see such films and discuss them. What we have to understand is; that the issue is not about poverty or lack of education, but about the mind sets"
The women in slums were shocked by the fury of the defence lawyer A P Singh, who effectively blamed the victim for her own death, said Dixit. He said a woman had told him after the screening; " if men change their mentality, women will be safe. It is shocking to see so called educated talk like this. We don't see like( the lawyer) thought we have never been to school."
Dixit had defied the ban earlier too and shown the film in a village near Agra on Women s' International Day. Speaking before his arrest, Dixit had said, he was less worried about the Police than about radical Hindu groups. " They threatened to attack my parent s' house in Agra, if I am not arrested within 48 hours. Instead of fighting a social evil like rape, they are agitated about a film on rape." He said.
( Story run by Gaurdian with Rahman Masih In Delhi and agencies)
This information published in Guardian reflects many deep rooted historical,  social and religious value system of Indian people. Violence in Indian society is paramount in Hindu culture, no matter they proclaim peace and nonviolence, yet it is projected immensely in self contradictory philosophy.
Talking of status of a woman, it is so sacred that she is called a goddess. In Hinduism there are more goddesses than gods. Even a cow is a goddess called " Gow Matta"  In practice no where in history, we find so much atrocity done to a woman as we find in India, right from the ancient times.  In the court of Yodhishtra the progenitor of both Pandwas and Kaurwas made Dharupati bare naked,  in his court just for the fun of gambling.
In history it was the first time, we hear the polyandry system portrayed, when Dharupati became the wife all those five Pandwas.
God king Rama, after winning her consort Sita back, At the cost of countless men in a war against Sri Lanka banished her out of his palace with a sibling boy on her breast, thinking that she was promiscuous woman.
All Hindu Mandirs (Temples) were inundated with teen age Devdaasi ( sex slave girls) for the priests, even to the age of eight years.
Even recently, the temple of "Yamma Devi" goddess of some 300 years, receives small little girls even to the age of two to eight to be sold later on to the brothels of Banglore, Mambai and Delhi. Out of the total percentage of prostitutes in India 34% are teenage girls, smuggled from Nepal, Sikkim and Bhutan.
The traits and characteristics of people, race or nation are directly evolved out of their belief system.  If the belief system is that a woman is less than a human and could be bought and sold, then its manifestation will be violence to the women. They will not be honored as devis (goddess), but demonic spirits.
A tree is known by its fruit.
Therefore, deeds of a person, people or race are directly determined by its belief system.  If the tree of your belief system is bitter, naturally the fruit will be bitter. If your belief system worships weaponry of war and raises slogan of killing and murder mercilessly all those who do not believe as you do, all those who are infidel must die by the sword, they are enemies of humanity and are ruthless brutes.
We are appalled at the horrible act done by religious goons of the Hindutwa and condemn this heinous deed perpetrated in a country like India who projects herself to be Socialist Democratic Republic. All our prayers and thoughts go with you beloved Nun, a servant of God. We do express our deepest sorrow for all those innocent girls and ladies who are being raped every day in India and Pakistan, all over the World, under this corrupt system.
By
News By ......
Posted on July 13, 2015 at 10:00 PM
Amir Ayad lies in a hospital bed after he was allegedly beaten by Islamic hardliners who stormed a mosque in suburban Cairo
Pakistan: Islamist Mob Kills Christian Couple Accused of Blasphemy
By
News By ......
Posted on July 13, 2015 at 10:00 PM
Commanded from mosque loudspeakers, a Muslim throng in Punjab Province killed a Christian couple yesterday after a co-worker accused the pregnant wife of defiling the Koran, sources said.